Why Segment and AWS
Segment is the customer data platform that collects, schematizes, and loads all of your customer interactions—from mobile, web, POS, CRM, email, and more—into Amazon S3, Redshift, Personalize, or Kinesis Streams, creating a 360-degree view of your customer across your AWS infrastructure.
Unlock data-driven solutions that drive growth
Digital Customer Experience
Build a 360 view of the customer with AWS and Segment. Unify the customer journey across both online and offline touch points to deliver compelling and relevant customer experiences.
Collect
Gain a single customer view with hundreds of out-of-the-box integrations or build custom sources and destinations to collect and send any stream of first-party customer data.
Unify
Unlock consistent profiles and audiences across your marketing stack. Activate those profiles in downstream tools for a relevant customer experience with every interaction.
Innovate
With a common infrastructure for data, you can future proof your tech stack and innovate on customer experience faster.
Data and Analytics
Manage data complexity at scale across multiple tools and teams. With accurate and high quality data, your company can uncover insights to make decisions that drive results.
Align
Standardize data collection throughout your organization. Keep your teammates in sync with a shared and enforceable data dictionary.
Validate
Diagnose data quality issues before they impact production. Automate the QA process with real-time data validation and violation reporting to ensure perfect implementations.
Govern
Keep the data in your marketing or analytics tools and warehouses clean. Quarantine data that's not up to spec and resolve errors during implementation, so you can trust the data that runs your business.
Machine Learning
Build, train, and deploy machine learning models faster with AWS Personalize and Segment. Collect and route consistently formatted customer data to train models and trigger accurate personalization.
Structure
Save engineering hours by using Segment to automatically structure customer data for use in Machine Learning applications.
Future-proof
Build and power machine learning models tailored to your business and customer needs with Segment and AWS.
Personalize
Combine both historical user activity and demographic data to build granular audiences and sync them across all your tools. With accurate user profiles, deliver recommendations and personalized experiences at scale.
Instantly load your customer data into AWS
Loading all of your first-party data into Amazon Redshift, streaming it into Kinesis, and getting raw data into Amazon S3–all while ensuring it is clean and schematized–is not an easy task. Instrument Segment once, for a 360-degree view of your customer across your AWS infrastructure.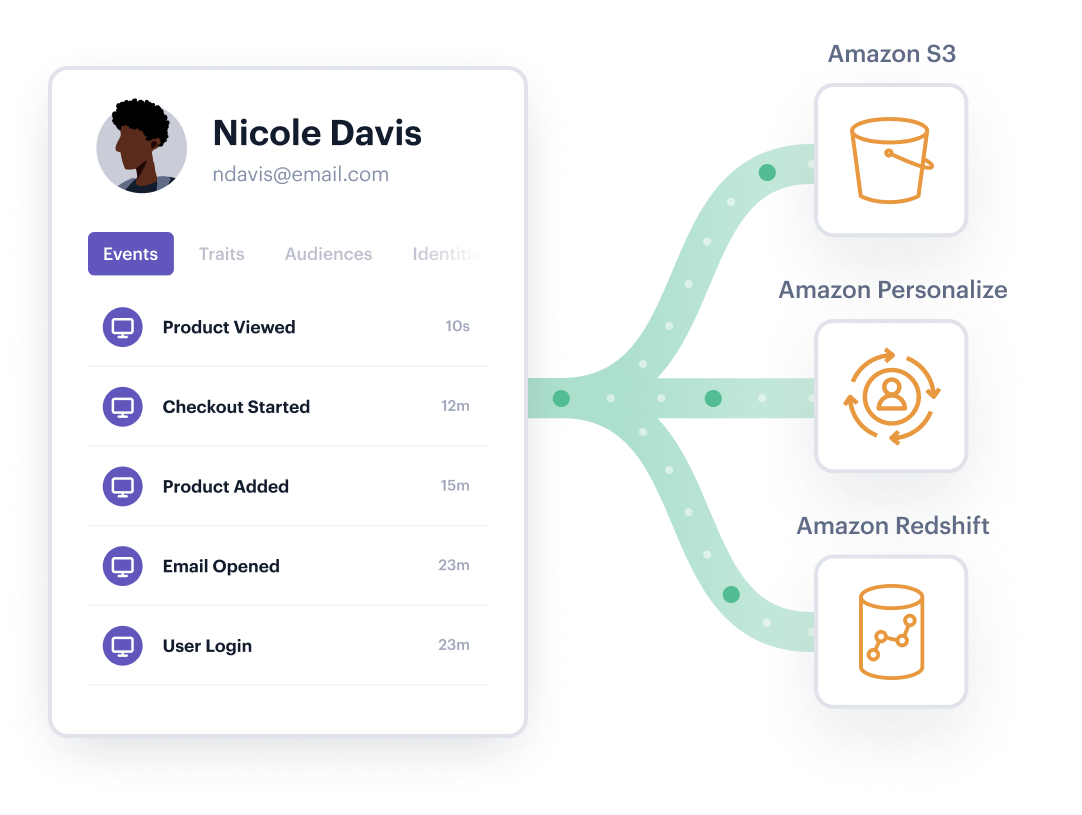 Get more out of AWS with Segment
Getting started is easy
Start connecting your data with Segment.